Heavy Duty Spring
For Your Heavy Duty Truck.
Fits many 3/4 ton and 1 ton pickups and vans for hauling and towing. Rear kits for commercials trucks, wreckers, ambulances, construction and utility trucks.
Of Load-Leveling Capacity.*
Working with your existing suspension, our air springs increase your safety and comfort when towing and hauling heavy loads.
More safety, stability and ride comfort.
RideControl™ fits many popular vehicles with leaf springs; including ½ ton and mini pickups, full-size and mini vans, and SUVs. Both front and rear applications are available.
Up to 2,000 lbs. Of Load-Leveling Capacity.*
Air Lift RideControl adjustable air springs work with your existing leaf spring suspension to provide up to 2,000 lbs. of load-leveling capacity. Inflate when carrying a heavy load, deflate when riding empty.
ReadyLift® leveling kits are the fastest, safest, least expensive way to bring the front of an F-150 level with the rear. Our innovative Smart Strut Technology mounts on top of the strut assembly, eliminating the hassle, time and danger of compressing springs. ReadyLift® steel strut extension will maintain a smooth OEM ride without adding pressure to stock suspension components, guaranteed!

The NEW 66-2058 strut extension bolsters ReadyLift's line of F150 Leveling Kits. The new 66-2058 kit provides 2.5" of lift which gives clearance to add up to 33" wheels and tires onto 2004-2010 2WD F-150 trucks. This NEW kit was designed for use on 2WD 2009-2012 F150 trucks ONLY. Not for use on 09-UP 4WD Models.

Installation is simple and requires no strut preloading, cutting, or modification of factory installed parts. While other kits cost thousands to buy and hours to install, ReadyLift® can be installed one to two hours and costs less than the price of a single custom wheel.

ReadyLift Lifetime Warranty Included! All ReadyLift® products are backed by a lifetime warranty for as long as you own your vehicle and includes all necessary parts, hardware, detailed installation instructions, and two color decals.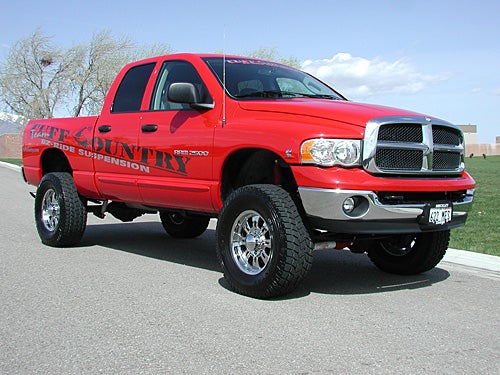 Chevy Silverado 1500 & 4" Lift Kits - 2007 thru 2013
Tuff Country's 4" Suspension Lift Kit for the 2007-2012 reintroduces their upper control arm design kits! This hot new lift kit is very affordable and simple to install. Using new tubular upper control arms along with upper coil/strut spacers, differential drops and a replacement differential skid plate to lift the front of the vehicle 4 inches and cast iron blocks with extended ubolts lift the rear 2 inches.

Fits Years: 2007, 2008, 2009, 2010, 2011, 2012, 2013

Allows use of up to 33" tires
No Drilling required

Keep a factory ride
Levels front of vehicle with rear

No Strut Disassembly required

Limited Lifetime Warranty