Ford's new truck will offer one of the most significant innovations in the industry's history and Pro Comp is right there with them. The one-piece drop down crossmembers and high-strength, extended steering knuckles install easily and maintain ideal steering geometry and factory CV axle angles.They are compatible with the factory stability control system and can fit 35-inch tires. Pro Comp sets the standard for performance and handling on lifted trucks. The commitment to quality and manufacturing excellence is unrivaled and backed by the 5 year/60,000 mile Lift Shield Warranty - the first and best powertrain warranty in the industry.
Complete Suspension Systems
Driven by genuine off-road enthusiasts, Pro Comp Suspension products reflect customer-driven, racing influenced technology and engineering with a focus on world-class manufacturing processes and techniques. When it comes to your vehicle's handling, look and performance, we know you don't make compromises and neither do we. From the middle of downtown to the middle of nowhere, Pro Comp will get you there!
Heavy Duty Spring
For Your Heavy Duty Truck.
Fits many 3/4 ton and 1 ton pickups and vans for hauling and towing. Rear kits for commercials trucks, wreckers, ambulances, construction and utility trucks.
Of Load-Leveling Capacity.*
Working with your existing suspension, our air springs increase your safety and comfort when towing and hauling heavy loads.
More safety, stability and ride comfort.
RideControl™ fits many popular vehicles with leaf springs; including ½ ton and mini pickups, full-size and mini vans, and SUVs. Both front and rear applications are available.
Up to 2,000 lbs. Of Load-Leveling Capacity.*
Air Lift RideControl adjustable air springs work with your existing leaf spring suspension to provide up to 2,000 lbs. of load-leveling capacity. Inflate when carrying a heavy load, deflate when riding empty.
ReadyLift® leveling kits are the fastest, safest, least expensive way to bring the front of an F-150 level with the rear. Our innovative Smart Strut Technology mounts on top of the strut assembly, eliminating the hassle, time and danger of compressing springs. ReadyLift® steel strut extension will maintain a smooth OEM ride without adding pressure to stock suspension components, guaranteed!

The NEW 66-2058 strut extension bolsters ReadyLift's line of F150 Leveling Kits. The new 66-2058 kit provides 2.5" of lift which gives clearance to add up to 33" wheels and tires onto 2004-2010 2WD F-150 trucks. This NEW kit was designed for use on 2WD 2009-2012 F150 trucks ONLY. Not for use on 09-UP 4WD Models.

Installation is simple and requires no strut preloading, cutting, or modification of factory installed parts. While other kits cost thousands to buy and hours to install, ReadyLift® can be installed one to two hours and costs less than the price of a single custom wheel.

ReadyLift Lifetime Warranty Included! All ReadyLift® products are backed by a lifetime warranty for as long as you own your vehicle and includes all necessary parts, hardware, detailed installation instructions, and two color decals.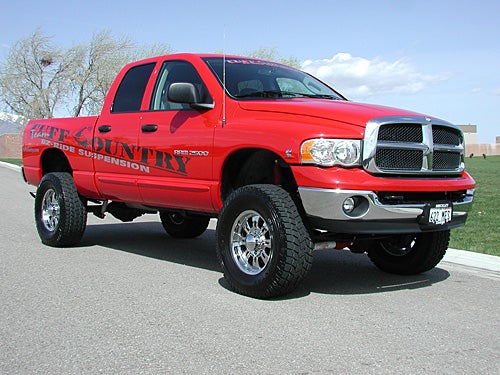 Chevy Silverado 1500 & 4" Lift Kits - 2007 thru 2013
Tuff Country's 4" Suspension Lift Kit for the 2007-2012 reintroduces their upper control arm design kits! This hot new lift kit is very affordable and simple to install. Using new tubular upper control arms along with upper coil/strut spacers, differential drops and a replacement differential skid plate to lift the front of the vehicle 4 inches and cast iron blocks with extended ubolts lift the rear 2 inches.

Fits Years: 2007, 2008, 2009, 2010, 2011, 2012, 2013

Allows use of up to 33" tires
No Drilling required

Keep a factory ride
Levels front of vehicle with rear

No Strut Disassembly required

Limited Lifetime Warranty