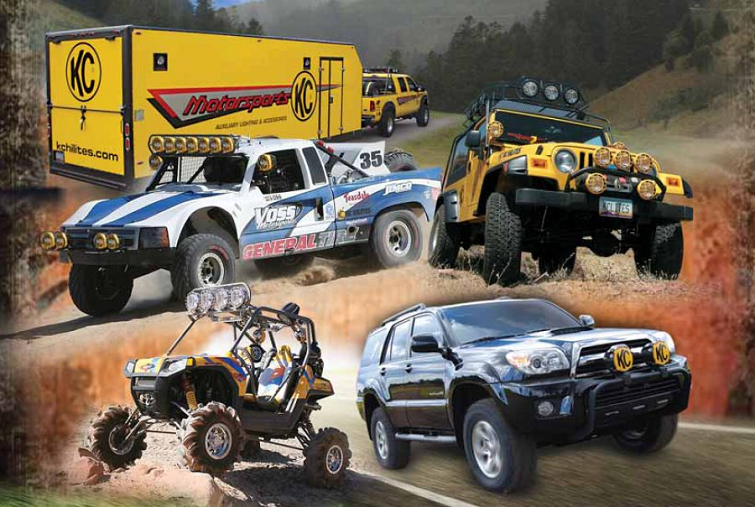 KC HiLiTES is the dominant force in auxiliary and off road lighting! We offer several quality products specifically designed for daily and hard use. From Long Range, Fog and Driving lights to Light Bars and Mounting Brackets we continued to evolve and offer the latest in lighting technology.
Why Buy the VX-8010
The Vision X 8010 halogen light provides double the light as a headlight bulb all in a sleek package. The VX-8010 is easy to mount and wire, and is the perfect light for the front of your truck or off-road vehicle.
Powerful Off Road Light
Die-Cast Aluminum Housing
The VX-8010, with a die-cast aluminum housing, is durable while being sleek and slim all at the same time.
100 Watt Halogen Bulb Technology
Within the Vision X 8010 is a 100 watt halogen bulb. With its high-powered halogen bulb, the 8010 puts out 1200 lumens, twice as much as a standard headlight bulb.
Single Stud Mounting System
With the adjustable stud mount, the Vision X 8010 has a fast and versitile mounting system that won't leave you mounting all day. We know that you want to get off road as soon as possible.

Night-Tech Bulbs:
The new Night-Tech line of high output replacement bulbs from PIAA features several advancements in performance, durability, and manufacturing. Through the use of a unique mix of gasses including a higher proportion of inert gasses as well as a new filament material these bulbs offer up to 90% more light than a conventional bulb with a greater life span. The gasses, filament material, and coatings on the bulbs offer a color temperature in the 3600 Kelvin range for a whiter output than standard bulbs and retain a DOT/SAE approval. The unique dual band bulb coatings not only create a whiter light but a brighter, longer range (up to 35 meters) output when compared to other replacement bulbs.
Xtreme White Plus Bulbs:
The Xtreme White Series of high output replacement bulbs have a cool white light output that gives the driver better color recognition on depth perception and better contrast than stock halogen lamps. The blue top coat on this series of bulbs adds a slight blue tint to a lamp with no loss of performance.
Plasma Ion Yellow (Ion Crystal) Bulbs:
Ion Crystal coating transforms white light into amber light without diminishing the strength of the beam. Ion Crystal technology allows as much as 95% of the light produced by the bulb to pass through, compared to as little as 65% through dyed glass. The long wave- length Plasma Ion beam reduces refraction for dramatically increased visibility in snow, rain and fog.
Super Plasma GT-X Bulbs:
An addition to PIAA's stable of high performance bulbs is the Super Plasma GT-X. The GT-X provides an exclusive purple low beam and an Xtreme White high beam in H4. And if that weren't enough! PIAA has added a purple colored top coat giving the headlamp a purple look even when the lamp is turned off. The Super Plasma GT-X bulbs offer an unmatched combination of fashion and performance with a bluish-purple color very similar to H.I.D. and the closest yet to sunlight.

PIAA's advanced Reflective Facing Technology (RFT)

PIAA wanted to perfect LED lighting when we designed rearward-facing bulbs and new "first-in-the-industry" reflector technology. The innovative design offers significantly improved lighting and beam control compared to conventional LED and halogen lamps with forward-facing bulbs. The result is greater visibility for drivers.

Key to achieving these performance advantages is PIAA's advanced Reflective Facing Technology (RFT). PIAA's exclusive computer-designed, multi-surface reflector concentrates and focuses the beam pattern of the rearward-facing LED bulbs more precisely than forward-facing LED lamps. RFT is featured in PIAA's new 530LED Series lamps and new 570LED Series lamps.

Both series of PIAA LED lamps provide brilliant illumination, but with lower power consumption than conventional LED and halogen lamps. They light the road with brilliant cobalt-blue color that is clearly visible to oncoming traffic, providing an added measure of driving safety. The lamps are compact and durable, with the cast aluminum housings and polycarbonate lenses.